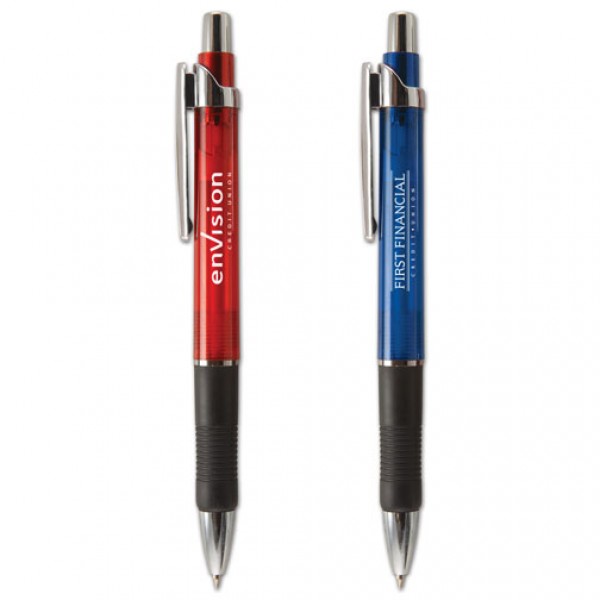 SANTA FE PROMOTIONAL PEN
Retractable pen with black rubber grip and chrome trims. Imprint colour in White only
- Retractable pen
- Medium ballpoint Black Gel ink
- Cut-off time is 11 A.m Monday to Friday (Business Days)

When we receive an order it is verified by our software that it matches the size you ordered and that it is in the correct cmyk colour format.
In the File check menu if you select the option to "print your files as uploaded" your design will be centered by default on our artwork setup template and sent to print. Only use this option if you have strong knowledge of commercial printing standards and their minimum requirements.
In the File Check menu if you select the "Check my files and submit proof before printing" option, your files will be handled by our prepress staff that will manually ckeck your files for errors. Your files will checked that they match ordered size, that they include bleed, that they are in the correct color format, that they are free of overprint issues, that all fonts have been outlined and all images embedded and that all texts are within the safe zone as per our artwork setup templates. A proof will the be generated and emailed to you for your approval. Print production will only take place after we have received your approval.
If you don't have print ready files, Printing Frog offers a professional design service. Contact us for a quote.
Please have your orders shipped at an address where someone is available to receive the merchandise.
If nobody is available to receive your merchandise some carriers will leave the merchandise on your doorstep. In the event the merchandise is stolen from your doorstep the transport company as well as our company cannot be held liable or responsible in any way for such events.
Posted turnaround time does not include shipping transit time. Once you order is shipped you will receive an email notification with the carriers tracking information, this information is also located in your order details on our website.
If you purchase more than one product on the same order, all items might ship at the same time regardless of the fact that some items may have a shorter turnaround time than the other items you purchased.
Please check your shipping address very carefully. Transport companies charge 11$ for an address correction and return package fees are 15$ PER BOX!
A good way to avoid package return fees is to track your shipments with the tracking number we email you once your order ships out. If you see a notification in their tracking system for any issue with the delivery of your package please inform us immediately. Once your shipment is sent back to us they will invoice us and you will need to pay for return shipment.
All shipping arrangements are made on behalf of the customer and the customer is fully responsible for the shipping and handling costs. Once the merchandise leaves the production facility we cannot be held responsible for any delay in delivery, charges for a mistake in the address you provide on your order, charges for return of package to our warehouse due to your absence after 3 delivery attempts, loss or damage of the order while the order is with the shipping carrier.
Claims
All claims must be made withing 48 hours after receipt of printed merchandise. All printed orders are non returnable and non refundable.
If you don't have print ready files Printing Frog offers a profesional design service. Please give us a call at 1-888-418-8635 to further discuss your project, and we will email you a quote shortly after.
Santa Fe Pen